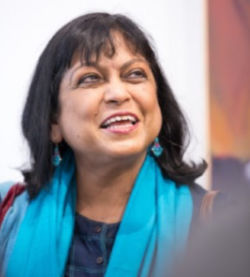 Bashabi Fraser (Ph.D) is a poet, children's writer, editor, translator and academic. As a transnational writer Bashabi's work traverses continents as she writes about Scotland and India.
She is Professor Emerita, and a former Professor of English and Creative Writing. She is the co-founder and Director of the Scottish Centre of Tagore Studies and Chief Editor of the academic and creative e-journal, Gitanjali and Beyond. Bashabi is also a Royal Literary Fund Fellow at the University of Dundee and an Honorary Fellow at the Centre for South Asian Studies at the University of Edinburgh.
She has published several academic books and articles. Her recent publications include Rabindranath Tagore, a critical biography (2019), The Ramayana, A Stage Play and a Screen Play (2019), Scottish Orientalism and the Bengal Renaissance: The Continuum of Ideas, Co-Ed., (2017), Confluence of Minds: the Rabindranath Tagore and Patrick Geddes Reader on Education and the Environment, Co-Ed., (2017), The Homing Bird (2017), Thali Katori: An Anthology of Scottish & South Asian Poetry, Co-Ed., (2017), Letters to my Mother and Other Mothers (2015) and Rabindranath Tagore's Global Vision (2015).
Bashabi is an executive committee member of Scottish Pen, Poetry Association of Scotland and Writers in Prison Committee (Scotland), a Director on the Board of the Patrick Geddes Trust, a Trustee of the Kolkata Scottish Heritage Trust, Ambassador for the Federation of Writers (Scotland) and Hon'y Vice President of the Association of Scottish Literary Studies (ASLS).
Bashabi has several poetry collections, has edited anthologies and has been widely anthologised. Her awards include the 2015 Outstanding Woman of Scotland conferred by the Saltire Society; Kavi Salam from Poetry Paradigm and Voice of the Republic in India in 2019; the Word Masala Foundation Award for Excellence in Poetry in 2017, Women Empowered: Arts and Culture Award in 2010 and the AIO Prize for Literary Services in Scotland in 2009. Bashabi lives and writes in Edinburgh.
Bashabi's research interests cover (1) Postcolonial Literature and Theory; (2) Tagore Studies; (3) Migration and Diaspora; (4) Transnationalism and Transculturalism in a postmodern world; (5) Personal Narratives and Oral History (6) Literary Theory and Creative Practice.