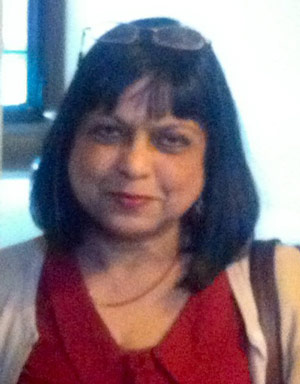 Bashabi Fraser is a poet, children's writer, translator, critic and editor. She has been widely published and anthologised. Her recent publications include Letters to my Mother and Other Mothers (2015), Rabindranath Tagore's Global Vision, Guest Ed issue of Literature Compass (2015), Ragas & Reels (poems on migration and diaspora , 2012), Scots Beneath the Banyan Tree: Stories from Bengal (2012); From the Ganga to the Tay (an epic poem, 2009); Bengal Partition Stories: An Unclosed Chapter (2006; 2008, for which she was awarded a British Academy research grant)), A Meeting of Two Minds: the Geddes Tagore Letters (2005, which received a Moray Foundation grant) and Tartan & Turban (poetry collection, 2004). She is the Editor-in-Chief of the international peer reviewed academic and creative e-journal, Gitanjali and Beyond, and has published the first issue entitled, Tagore and Spirituality, November, 2016.
Her awards include the 2015 Outstanding Woman of Scotland awarded by Saltire Society, Women Empowered: Arts and Culture Award in 2010 and the AIO Prize for Literary Services in Scotland in 2009. She has had several writing residencies.
Bashabi is a Professor of English and Creative Writing and co-founder and Director of the Scottish Centre of Tagore Studies (ScoTs) at Edinburgh Napier University and an Honorary Fellow at the Centre for South Asian Studies, University of Edinburgh. She has been, till recently, a Royal Literary Fund Fellow based at Dundee University and then at Queen Margaret University, Edinburgh. She has been awarded the ICCR International Research Fellowship to write on Rabindranath Tagore.
She is a Council member of the Association of Scottish Literary Studies (ASLS), Patron of the Federation of Writers in Scotland, executive committee member of Scottish PEN, Writers in Prison (Scotland) and the Poetry Association of Scotland. She is a Trustee of the Kolkata Scottish Heritage Trust, a Director on the Board of the Patrick Geddes Memorial Trust and on the Management Committee of the Scottish Association of Writers and Ambassador for the Workers Educational Association, Scotland.