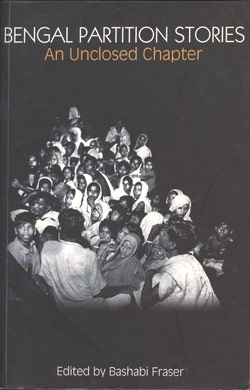 Edited and with an Introduction by Bashabi Fraser (2002, 2008), Anthem Press, London, New York, Delhi
This 622 page book contains 39 published stories about the partition of Bengal, all freshly translated into English, with a 56 page Introduction: 'The Bengal Partition relived in Literature', followed by a postcolonial analysis of the stories.
The book starts from the 'near silence' concerning the violence encountered by those who fled across the border created by the partition of Bengal in 1947 and the military conflict of 1970-1 which led to the creation of Bangladesh. The stories explore the personal experiences in the mass exodus following the division of Bengal and their repercussions in India and Bangladesh. It unearths the collective memories of a people traumatised by the brutal rupture of their homeland, as well as recording the numerous acts of humanity carried out by members of both communities during the conflict and in post-Partition days. The stories also document the prolonged struggle of the displaced and dispossessed as a result of a mindless border.
The Introduction is based on original research which offers a socio-historic analysis of the history of Bengal from the end of the 19th century when political divisiveness initiated the communal divide, bringing it to the present day. It explores changing Hindu-Muslim relations and the role of events in Bengal which led to the Partition of India.
As Mushirul Hasan says in his Foreward 'This collection of stories, backed by a thoughtful introduction, is a welcome addition to recent anthologies of fiction on Partition translated into English; more so, because it is on the eastern partition of the subcontinent.' Professor Anthony Hepburn of Sunderland University also writes 'This is a truly remarkable volume, and deserves to attract the attention of historians, literary scholars, social scientists and others with an interest in ethnic conflict in any part of the world.'