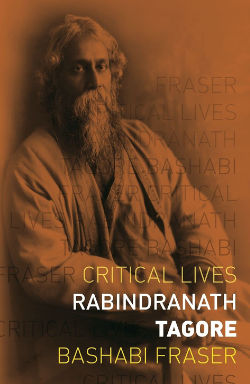 Polymath Rabindranath Tagore was the first non-European to be awarded the Nobel Prize for Literature, in 1913. But Tagore was much more than a writer. Through his poems, novels, short stories, poetic songs, dance-dramas and paintings, he transformed Bengali literature and Indian art. He was instrumental in bringing Indian culture to the West and vice versa, and strove to create a less divided society through mutual respect and understanding, like his great contemporary and close friend, Mahatma Gandhi.
In this timely reappraisal of Tagore's life and work, Bashabi Fraser assesses Tagore's many activities and shows how he embodies the modern consciousness of India. She examines his ties to his upbringing in Bengal, his role in Indian politics and his interests in international relationships, as well as addressing some of the mis-readings of his life and work through a holistic perspective.
'Fraser does well in this short book, taking us swiftly, over the course of twelve chapters, from his family home and background to his "modernity" and "legacy". There are also rare photographs here, rescued from widely dispersed archival sources. No summary in 200 pages can be expected to do justice to the vast, complex and influential oeuvre of this poet who was also a short story writer, dramatist, educationist, artist, songwriter, composer and many other things. It is important, however, that his name be put into circulation in contemporary times to remind the world of Rabindranath Tagore – yet again.' — TLS

'One needs to acknowledge the significant contribution of the present book under review. As part of a series entitled Critical Lives that presents the work of leading cultural figures of the modern period all over the world, Rabindranath Tagore by Fraser stands as the only non-Westerner in the long list of artists, writers, and philosophers that have been published till date. Written within the framework of twelve chapters, this critical and biographical study reassesses this Renaissance man who embodies the modern consciousness of India, engaged as he was in nation building and contributing to the narrative of a nation. Tagore's life and work are inseparable, so an analytical reappraisal of the familial, sociopolitical, and cultural background provides a prism through which one can understand Tagore as a writer, artist, and pragmatist.' — Daily Star, India

'Bashabi Fraser's critical biography of the life and career of the iconic Rabindranath Tagore can by no means be dismissed as just another volume in the catalogue of Tagore studies. Fraser's slim paperback is a commendable example of this skilful biographer's wide scholarship that has enabled her to undertake a rigorous sifting process, a process of judicious selection and rejection, foregrounding and showcasing various milestones and signposts that span the seven decades of Tagore's life as a "rooted cosmopolitan" . . . Fraser's combines intellectual incisiveness and sensitivity while meticulously mentioning Tagore's varied literary texts . . . the biography invites the readers to discover Tagore as text, an extraordinary life-narrative stranger than fiction.' — The Statesman, India

'Bashabi Fraser's insightful critical biography of Rabindranath Tagore is focused on his cosmopolitanism, an aspect often missed out in traditional narratives. The shaping influence of his family, the historical forces of the Bengal renaissance and the capacity to learn from extensive cultural contacts synthesised into the humanistic philosophy by which Tagore is known. Deeply researched and empathetically written, Fraser's book is a valuable assessment of Tagore's life and letters seen through modern sentiments. Hence, there are no hagiography in this narrative and hardly any apocryphal tales; instead one finds a steady gaze at the heart and mind of one of the most influential figures of the last millennium.' — The South Asianist

'Bashabi Fraser's Rabindranath Tagore is a delight to read. Comprehensive but never boring, scholarly without being pedantic, sensitive to historical context but not bogged down in detail, and sympathetic yet never fawning, she achieves a valuable balance. I recommend this book to those who have read a great deal of Tagore and about Tagore, as well as to those who have never heard his name, to undergraduate and graduate students, to students of literature and history, and to those who want to understand a cultural figure who helped make the modern period.' — Postcolonial Text

'An essential educational and literary resource, Fraser's insightful biography not only sketches Tagore's rich oeuvre and his involvement with nation and culture, but also depicts the seeds of childhood and adolescent genius that foreshadow the Nobel heights. For Tagore researchers, Fraser's biography may be a mine of information on the polymath's extensive oeuvre, his experimentation with the different genres of literature and art, his liberal humanism and his political visions. This critical biography comes at a crucial time, when a revived 'Rabindric' interest engages academics and enthusiasts alike, declaring Tagore an essential component of world literature, beyond the confines of national borders.' — Palimpsest - East Delta University Journal of English Studies

'a unique insight to Tagore's life, his experiences in India, Europe, China, and Japan and cites numerous incidents from his life that directly influenced some of his great works . . . This intuitive and charmingly written biography of a man who transcended all sorts of borders is a must-read. For someone who is interested in knowing the events that shaped Tagore's literary career, this concise and yet critical book will be of immense help. More than anything else, the present volume is an indispensable and resourceful guide to know all that "Viswakabi" Rabindranath Tagore stood for.' — Political and Business Daily, India

'Comprehensive in its coverage of the multi-faceted genius of Rabindranath Tagore, insightful and clearly written, this is a succinct critical biography of a man who transcended all sorts of borders and traversed continents in his lifetime. Bashabi Fraser presents Tagore's life and works with sympathy and care, tracing the different strands that came together in him, and giving us ample reasons to value his contribution to the world he lived in.' — Fakrul Alam, East West University, Dhaka, and co-editor of The Essential Tagore

'An excellent and informative introduction to Tagore and his context.' — Amit Chaudhuri, author of The Immortals, Freedom Song and Calcutta.