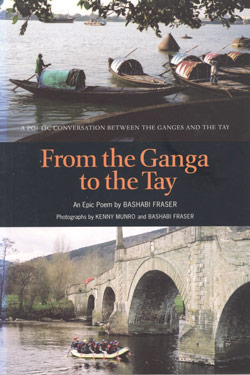 Bashabi Fraser (2009), Luath Press, Edinburgh
This is an epic poem of some 2050 (short) lines which meander through 54 pages illustrated by photographs taken by Kenny Munro and Bashabi Fraser. Kenny Munro has also contributed an Introduction and Bashabi Fraser a Preface and Notes.
The Preface and Introduction outline the links between India and Scotland, both historical and personal, which are woven into the poem's poetic conversation between the Indian river Ganga (Ganges) and the Scottish river Tay. They also stress the importance of rivers to the culture and history of both countries, exploring the connections and contrasts between Scotland and India. 'The story of rivers is the story of the growth of civilisation as people settled along flowing water.'
In the art of Bashabi Fraser the cultures of India and Scotland richly blend, and in this magnificent poem the two living traditions speak to each other through the riverine oracles of the Ganges and the Tay.
RICHARD HOLLOWAY
A rich blend of mythic, historical, and geographical storytelling, her poem explores aspects of India and Scotland from a radically unusual perspective, paying tribute to the close links between both post-colonial nations.
MARIO RELICH
The Poem tells the story of these two rivers – myths of gods and goddesses, contrasting geography, contrasting weather, how people use the rivers over the ages, crops beside each river, Scots working in India during the Empire, the jute industry rising and falling beside both rivers, the salmon and hilsha fish, Indian restaurants and so on.
'In the art of Bashabi Fraser the cultures of India and Scotland richly blend, and in this magnificent poem the two living traditions speak to each other through the riverine oracles of the Ganges and the Tay' (Richard Holloway). 'A rich blend of mythical, historical and geographical story-telling, her poem explores aspects of India and Scotland from a radically unusual perspective, paying tribute to the close links between both post-colonial nations.'(Mario Relich)