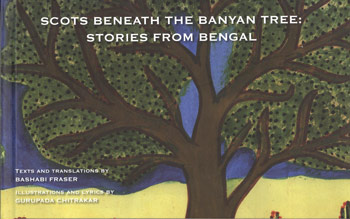 Bashabi Fraser with Gurupada Chitrakar (2012) Luath Press, Edinburgh
This book is done with an internationally renowned scroll painter from Bengal, Gurupada Chitrakar, whose scrolls unfold as you open the book. The book gives a brief history of Patuas by Ruby Pal Chaudhuri and an Introduction by Lord Charles Bruce. The book is about Scots who have more or less been forgotten in Scotland, but have become iconic figures in Bengal.
The research, writing and translations for the book have been done by Bashabi. The translations of Gurupada's beautiful lyrics which tell the stories of these remarkable Scotsmen, are printed on the reverse side of the scrolls, once they have been folded back. This is an artist's book, the outcome of a book project supported by the National Library of Scotland. All the scrolls have been sponsored by individuals and institutions.