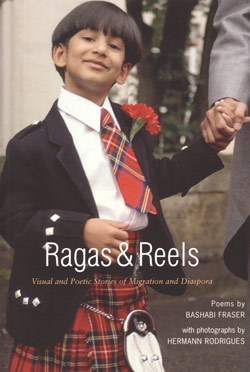 Bashabi Fraser and Hermann Rodrigues (2012), Luath Press, Edinburgh
This book consists of 46 poems by Bashabi Fraser each linked to a photograph by Herman Rodrigues. As Herman says in the Introduction 'This selection spans a long shared history between Scotland and South Asia – including how Scots brought India back with them. We chose a cross-section of 'New Scots' – from town and country, from different professions e.g. medicine, education, business, of different generations – to present a whole social fabric that is both representative and illuminating, illustrating their contribution to Scotland.' The photographs are beautiful studies of these New Scots in their new land, and the poems tell the story of each photograph in a great variety of poetic forms.
'In Ragas & Reels, Bashabi Fraser consolidates her reputation as one of the foremost poets of contemporary Scotland. Her loyalties to both India and Scotland are deep and active ... In this new collection of beautifully turned, carefully poised poems, she co-ordinates these loyalties of understanding and sympathy in ways which invite the reader to take stock of her or his position in a rapidly changing global economy, and to return to the things which are most deeply nourishing' (Alan Riach).