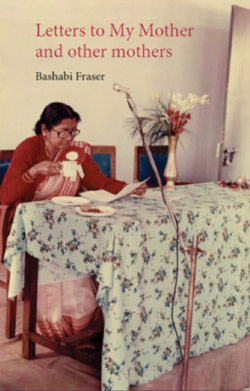 Bashabi Fraser (2015), Luath Press, Edinburgh
Bashabi Fraser commemorates her mother and the conversations they would have together. Exploring themes of motherhood, empowerment, love and loss, the acclaimed poet draws on her Indian and British life experience, engaging with hard-hitting current issues such as climate change, war and the prevalence of violence against women worldwide.
This is a collection of 60 poems, with an Introduction about her mother preceding the poems. As she says there 'I could speak to my mother about everything – social injustice, climate change, women's rights, music, plays, films, politics, books, my crushes, my friends' romantic escapades ..' The poems were mainly written after her mother's death but continue the conversations she had with her. The sequence to 'Other Mothers' flows in the same strain.


In this beautifully candid and moving sequence of poems, Bashabi Fraser talks to her mother across the years and across 'two cherished countries of Scotland and India'. The poems are shaped by geographies of loss, as a daughter contemplates the distance between Bombay and Marseilles, between Kolkata and Edinburgh, and ultimately between life and death. There is a wonderful conversational ease in the writing, with mother and child sharing their feelings about music, art, love and politics, but the poems are always delicately and lyrically crafted. The book opens into a tribute to the many other mothers who have undergone remarkable journeys. For all the deeply felt loss in these poems, there is joy and gratitude, too, and a heartfelt consolation in the enduring power of words.
Stephen Regan
Professor of Poetry
University if Durham



Bashabi Fraser's new collection returns to themes of her earlier work, but this time in an elegiac mode. The poet dedicates her new poems to mothers, in all senses of the word—to her own biological mother and to other mothers whose love and whose losses have shaped her life, and to mother tongues and mother countries. As in The Ganga and the Tay, Bashabi Fraser investigates the cultural dialogue entailed in a migrant poetics, returning to scenes from her own childhood and from her mother's youth. Touchingly recalled are the brutal separations of Partition, the less fraught but still poignant distances between India and Scotland. These poems weave a tender net between past and present, Scotland and South Asia. In intimate detail they mine the elegiac necessities of age and of separation, and yet at the same time they also celebrate the joys of connection.
Mary Ellis Gibson
Professor of English Literature
University of Glasgow